A Guide to easy Breakfast, Lunch or Dinner during holidays.
It's that time of year when we get to go back to our favourite little spot every summer where I don't have to worry about anything but my next meal. We rent a little hut and spend most of our time hanging out on the beach. In the last couple of years, we have also added a 45-minute workout sessions to ensure that we don't fly home with massive excess luggage on board. 
As I do not have the well-equipped kitchen I have at home, cooking during the holidays quite often prove to be challenging. As much as I want to enjoy all the fresh ingredients I can get my hands on from the local farmers market and well stocked grocery stores, the time factor play a big role in deciding what to cook. I don't necessarily want to slave away in the kitchen and miss out on the beautiful Atlantic. Hence cooking is pretty much the same as at home during workdays when I have limited time to get decent food on the table, but with the local ingredients I don't often get at home for the same price. 
I have often been asked why I cook during my holidays. It is the best way for me to really enjoy my downtime. Also the best way to get the creative juices going. In the days when I was freelancing and working a fair bit from home, I would go to my kitchen after a phone briefing and put together concepts in my head whilst dicing and slicing and stirring. Choosing my ingredients is like picking the experts I would need for a project and the actual cooking is seeing how each play a part in the end result. During my holidays, I don't even have to think of any projects…it's for the pure joy of cooking and enjoying what I cooked. 
Day 2: Filet of duck breast with roast potatoes and ratatuoille
Good For:
Lunch or Dinner
Another favourite. Whatever duck breast filet is left-over lands on the next days beach lunch! Only thise time, I bought just enough for two. There was however, ratatouille a plenty left for the next day. Preparation time is a bit longer but I try to get stuff done before we hit the beach. After our daily 45-minute work-out we generally enjoy a long breakfast on our verandah. This gives me plenty of time to get stuff ready for dinner, like boiling potatoes, cutting up the vegies for my ratatouille and marinating the duck breast.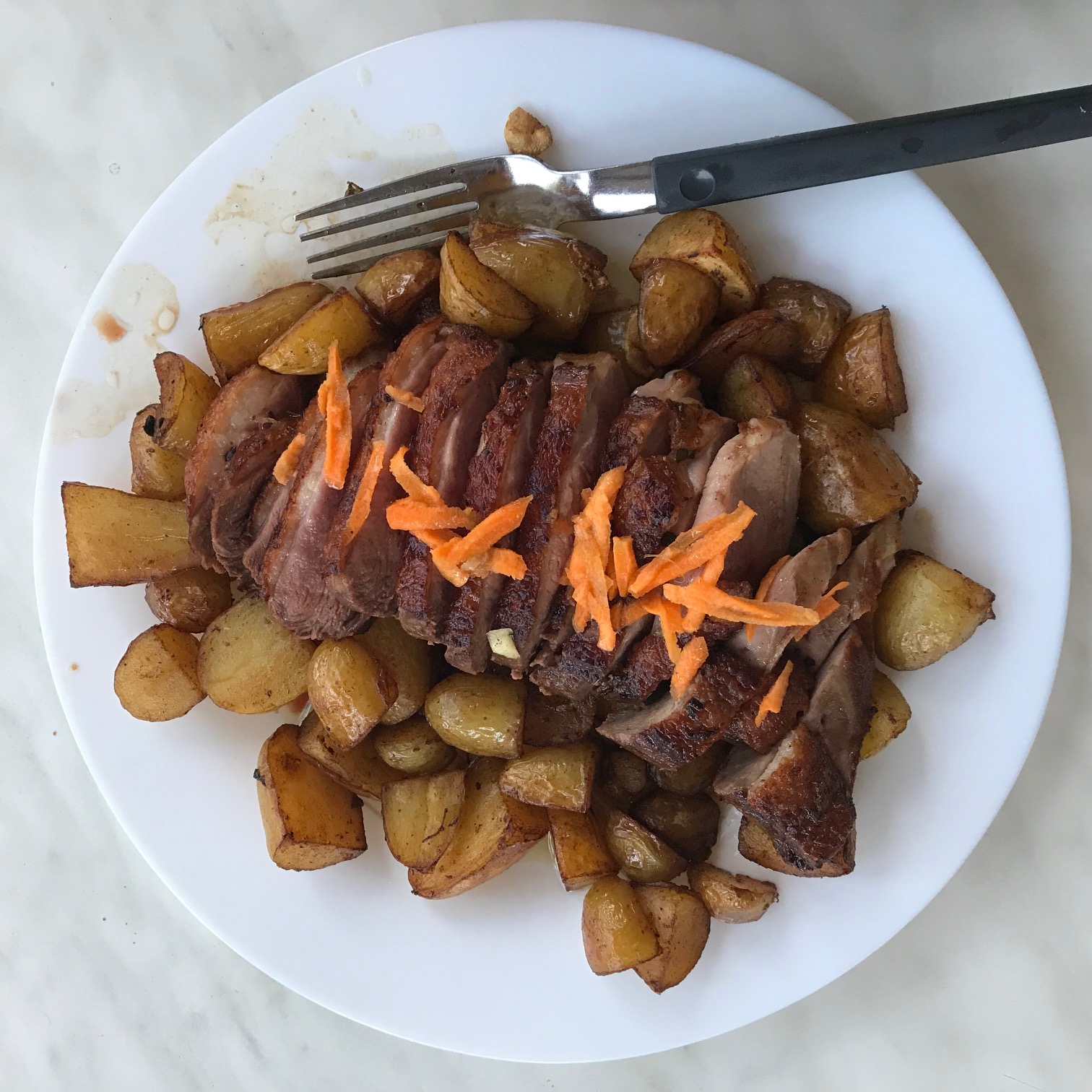 1 filet of duck breast
150 grams  butter
3 tbsp olive oil
1/2 tbsp salt
5 cloves  of garlic

finely chopped rosemary & thyme

salt and pepper

15 baby potatoes

Ratatouille
1 medium sized zucchini
1 medium sized aubergine
4 medium sized tomatoes
1 medium sized onion
5 cloves  of garlic
250 g  tomato puree
40 ml balsamic vinegar

finely chopped rosemary & thyme
Marinate the duck breast filet and set aside. That's about 5 or so hours…or for as long as we were hanging about the beach. Then get cracking on slicing zucchini, aubergine and tomatoes. I like to arrange them as seen below. (Something I picked up from watching the cartoon animation film, "Ratatouille"! Finely chop garlic, onions and mix with tomato puree. Add balsamic vinegar and salt & pepper to taste. Pour all over laid out vegetables. Sprinkle with finely chopped thyme and rosemary. Place in oven to cook for an hour at ca. 160 °C. After this, you can re-heat anytime. As we generally stay at the beach till late, it's good to have this ready before we even leave.
About 10 minutes before dinner, I fry the duck breast with very little oil. After a while, it generates enough fat so that I can just throw the halved boiled potatoes and literally deep fry them in duck fat. I then throw the marinade (garlic, rosemary & thyme) into the pan as well.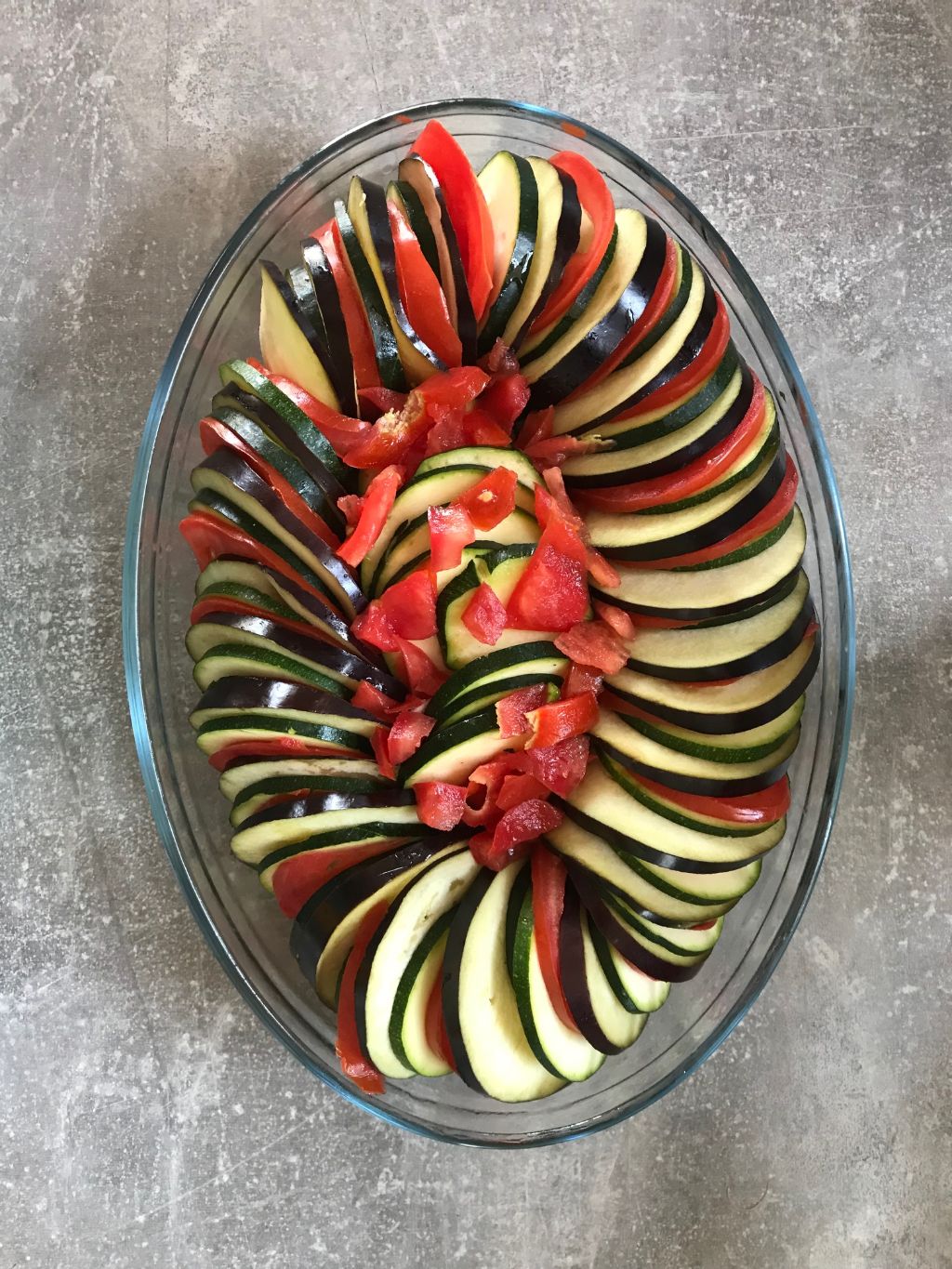 Day 1: Giant garlic prawns with green salad and rice
Good For:
Lunch or Dinner
This is almost always the first thing I make on my first day. I don't often get such giant prawns at home. I could surely buy them at home but I only have two kidneys and would like to save them for the rainy days.
This is so easy, you can do it with your eyes closed.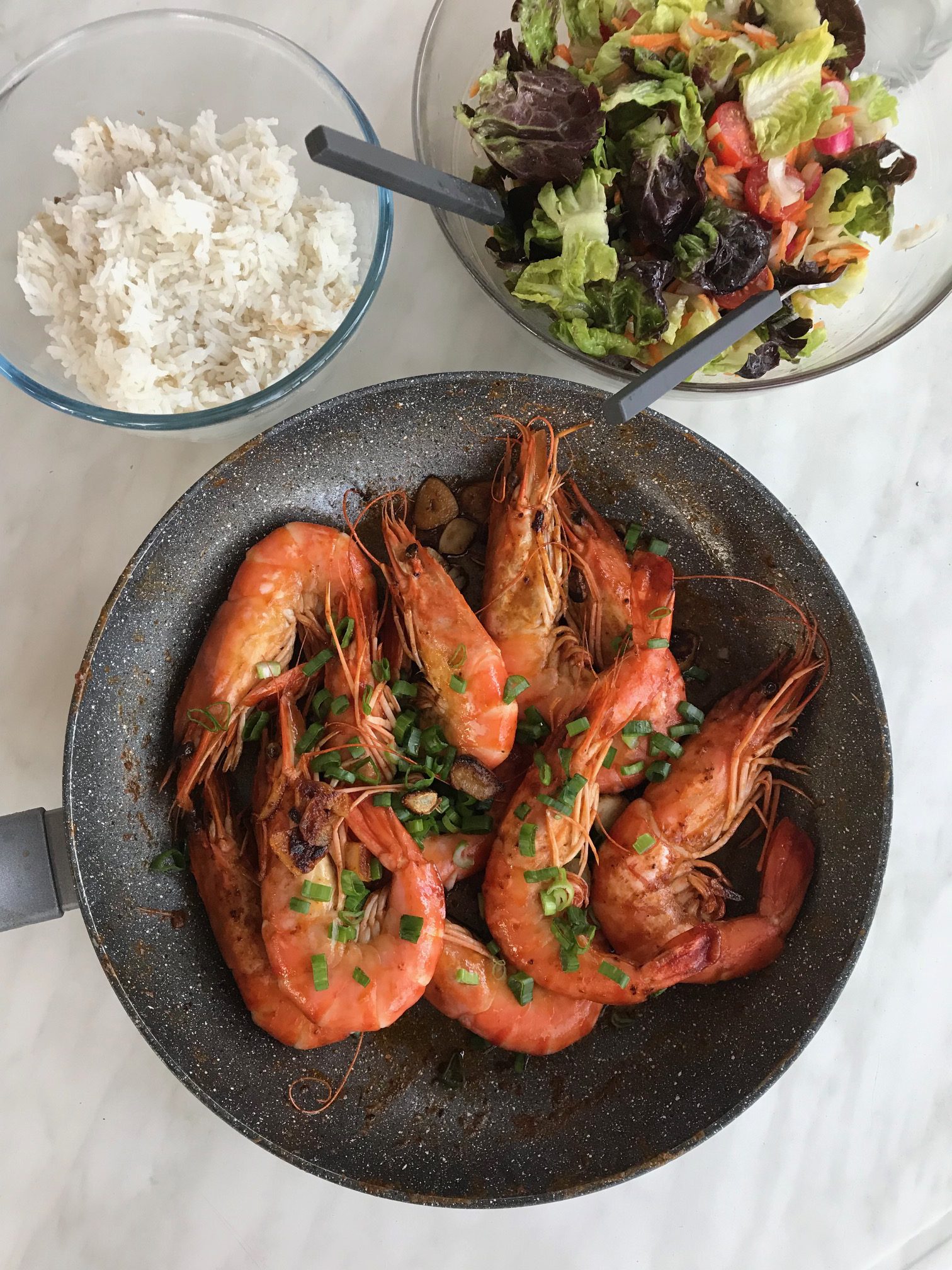 1 kilo giant prawns
150 grams  butter
3 tbsp tomato sauce or puree
1/2 tbsp salt
3 tbsp olive oil

shallots to garnish
I like to get the fresh and uncooked giant prawns but as we arrived too late, we had to make do with what was left at the fish mongers and they were the pre-cooked giant prawns. Also good…less cooking time! I firstly pour olive oil in the pan and then throw the prawns once hot. Just swerve the prawns about until golden and then throw in the butter and garlic. A trick I got from my Mom is using tomato sauce or puree to give the prawns a bit more of a tangy tinge and some sort of a sauce to pour on the generally dry boiled rice that Filipinos like with their meals.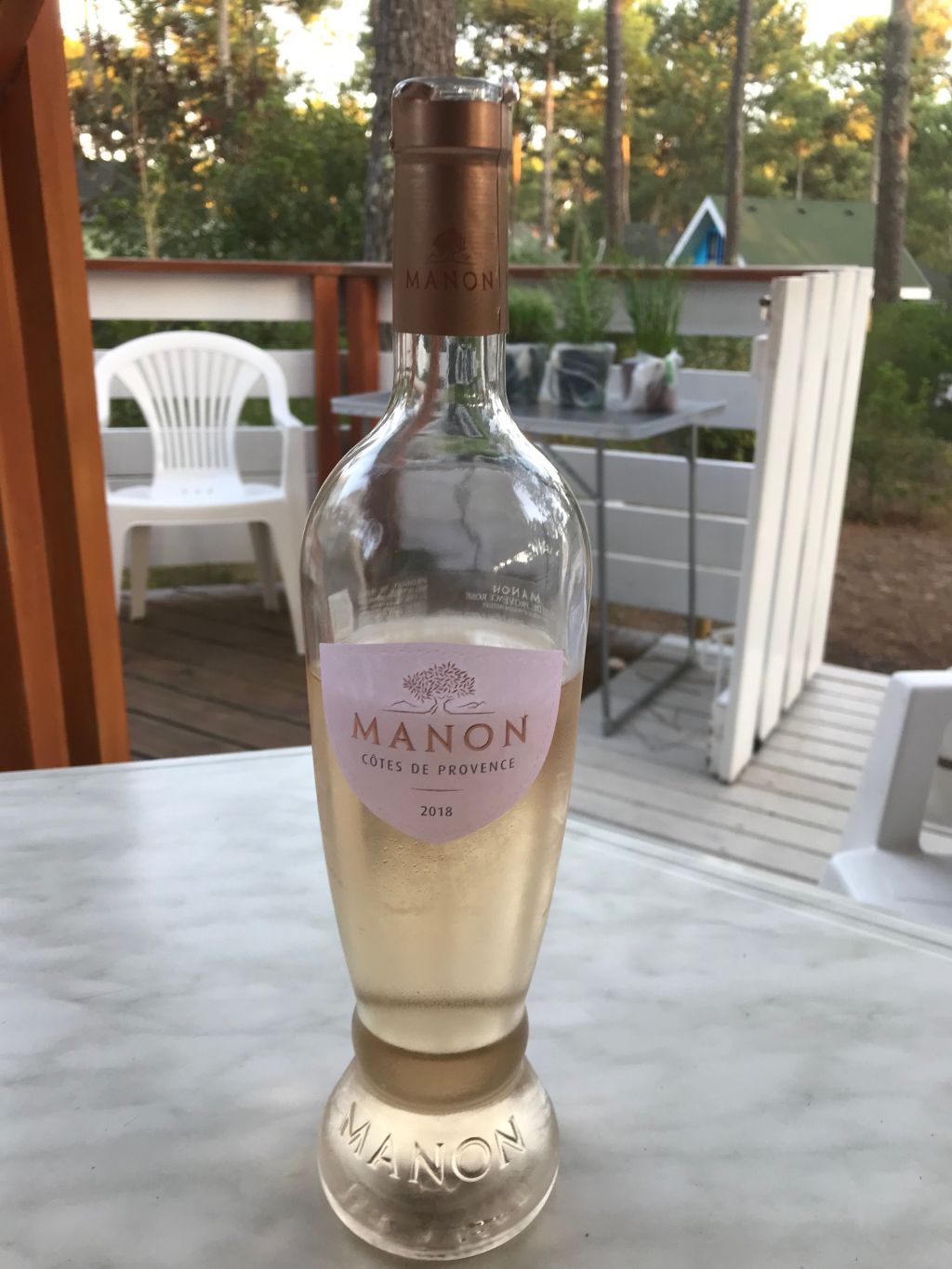 My old man is in charge of beverages during the holidays (and pretty much always) and this bottle was perfect for the first evening. He pays attention to the fact that I can only tolerate rosé at the best of times.